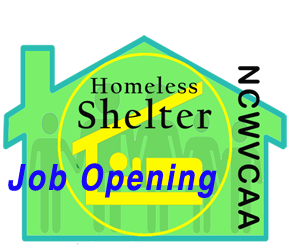 IN-HOUSE VACANCY ANNOUNCEMENT
Position:                                 Veterans/Shelter Case Manager
Department/Program:        Homeless
Classification:                      Hourly, Full Time                                Supervisor:    Shelter Manager/Community Services Director
Description:                          Will participate in the recruitment and intake of homeless individuals for the Veterans homeless programs and individuals/families at Scott Place.  Will work with participants to develop appropriate case plans and goals and provide ongoing assessment and support, assisting participants to utilize internal and community resources to secure appropriate permanent housing and realize self-sufficiency.
Qualifications:                     Minimum of a Bachelor's Degree in Social Service related field from accredited institution. Minimum of two years' experience in case management services.  Documented experience working with homeless individuals, families &/or homeless service programs is preferred.  Experience working with veterans preferred. Excellent computer knowledge; strong communication skills.  Ability to work independently and make sound decisions.  Desire to work with homeless and/or low income individuals. Must be able and willing to work day, evening shifts. Occasional overnights as required per program needs; including some holidays. Valid Driver's License.  Must be able to obtain a Food Handlers Card, CPR, First Aid training, & any other certifications that may be required for the position. *Some certifications are provided/paid for by employer.  Be able to provide own transportation; complete Criminal Background Check & Protective Services Record Check; TB Risk Assessment or TB screening by Mantoux method.
Job Responsibilities             Maintain confidentiality of client matters; manage assigned caseload. Work closely with other social service agencies. Attend training sessions as required. Complete all necessary forms and paperwork on new and existing program participants and maintain the specific mandates of the Veterans programs and SED/CHOP program; reporting, case files, etc.  Assure participant compliance with service plans and service plan revisions as necessary.  Assure compliance with all appointments (employment, medical, psychological, etc.). Attend staff meetings as required.  Maintain daily activity log.  Provide transportation for program participants as needed.  Maintain close communication with Shelter Manager, all referring agencies, and other service providers.  Answer and document calls as needed.  Enter client data daily in DBA FacsPro/HMIS and maintain action plans as required.  Evaluate participant concerns, observe behavior, develop service plans, and etc. Provide comprehensive case management services to low-income veterans and families.  Gather and evaluate participant's information regarding employment history, housing situation, physical functioning, financial status and other program specific criteria to determine eligibility for services. Link and refer participants to other mainstream community resources.  Assist with removing barriers to finding and maintaining housing and employment.  Provide outreach and explore partnership opportunities.  Maintain thorough and organized records of services provided in the agency database (DBA FacsPro and HMIS) and prepare required reports regarding participant status toward self-sufficiency. Manage assigned caseload and prepare necessary reports. Other duties as assigned by supervisory staff &/or Community Services Director.
Physical Demands:             While performing the duties of this job the employee occasionally is required to stand, walk, sit, use hands, drive an automobile, talk, and hear. The employee must be able to lift and/or move up to 25 pounds.  Have the ability to walk up and down steps daily.
Wage:                                    $12.62 – 13.24 p. hr.
Apply:                                    Applications available at North Central WV Community Action offices or any Head Start center.  Return completed application to:
Jennifer B Parr, Community Services Director
North Central WV Community Action Association Inc.
1304 Goose Run Rd   Fairmont, WV  26554
Phone:  (304)-363-2170 ext 137
jbenedumparr@ncwvcaa.org
Closing Date:                        October 12, 2017 @ 4:00PM
NORTH CENTRAL WV COMMUNITY ACTION
is an Equal Opportunity Employer.